Features & Advantages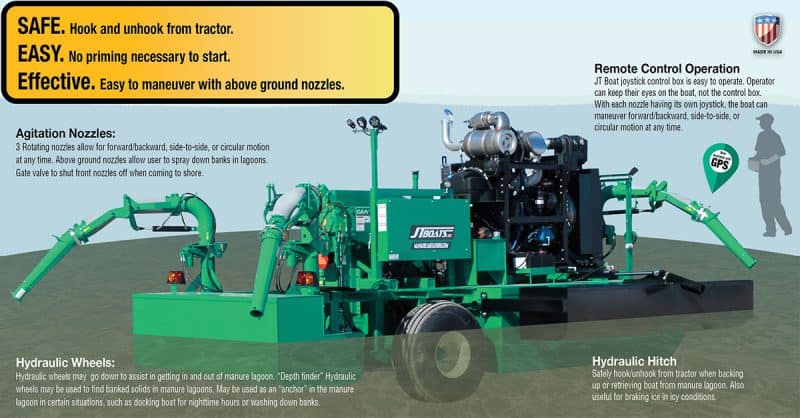 Design built for maneuverability for exit and entry of manure lagoons.
Provides durability in icy conditions.
Up/down hydraulic wings.
Up/down hydraulic hitch.
Up/down hydraulic rear wheels.
Hydraulic knife valve to shut off front nozzle when coming to shore.
GEA Farm Technologies 8" super pump.
5 LED lights for nighttime use.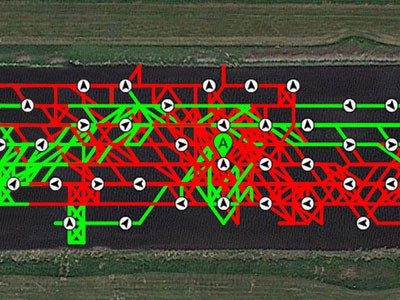 GPS Features
Mark your (4) perimeter spots and START!
Your JT Boat will automatically create its own path to completely cycle your pond
GPS tracks boat's movement and time of operation.
EATON TELEMATICS SOFTWARE
An additional add-on to your GPS system allows remote interaction with boat(s) and tracking.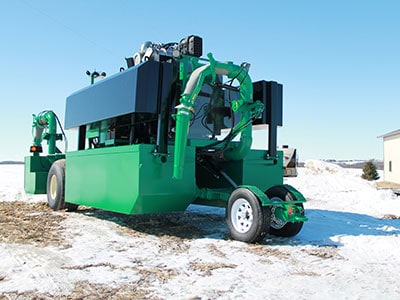 Front Wheel Kit Available
AR 500 Wearable Parts Upgrade
AR 500 Housing
AR 500 Lined Impeller
AR 500 T
These products are proven to last up to 4x longer
1800 Series Technical Specifications
Length
22 ft.
Width
Wings up: 8.5 ft. Wings down: 15 ft.
Weight
14,500 lbs.
Engine
John Deere 6.8 Ltr. Tier IV 250 hp.
Fuel capacity: 125 gallons
Centrifugal Pump
GEA 8″ super pump
Remote Control Functions
Engine start/stop
Engine throttle increase/decrease
GPS functions
Hitch raise/lower
Lights on/off
Nozzles controlling/steering/propelling
Rear wheels raise/lower
View operating temperature
View engine oil pressure
View engine hours
View fuel gauge
Wings raise/lower
Agitation/ Nozzles
3 Rotating nozzles allow for forward/backward, side-to-side, or circular motion at any time.
Above ground nozzles allow user to spray down banks in lagoons.
Gate valve to shut front nozzles off when coming to shore.
Hydraulic Hitch
Safely hook/unhook from tractor when backing up or retrieving boat from manure lagoon.
Also useful for braking ice in icy conditions.
Hydraulic Wheels
Hydraulic wheels may go down to assist in getting in and out of manure lagoon.
"Depth finder" Hydraulic wheels may be used to find banked solids in manure lagoons.
May be used as an "anchor" in the manure lagoon in certain situations, such as docking boat for nighttime hours or washing down banks.
Problematic Conditions? No Problem! The JT Boat manure agitator has a clear cut advantage in these adverse conditions and more…
Thick Crust Conditions:
Simply direct nozzles above crust, soaking and breaking the stubborn crust up as it sinks and mixes into the slurry.
Sand Bars:
The JT Boat easily is able to move sand through pump and throw it out front nozzle, moving the sand pile across pit (to pump feeding drag lines or tanks).
Icy Conditions:
Extreme force of liquids coming out nozzles breaks up ice, while the steel floats are able to withstand the wear and tear of floating ice chunks.
Extreme Sand Conditions:
The JT Boat quickly and efficiently gets to work, providing a slurry consistency that is similar to the first hour on the job, to the last.