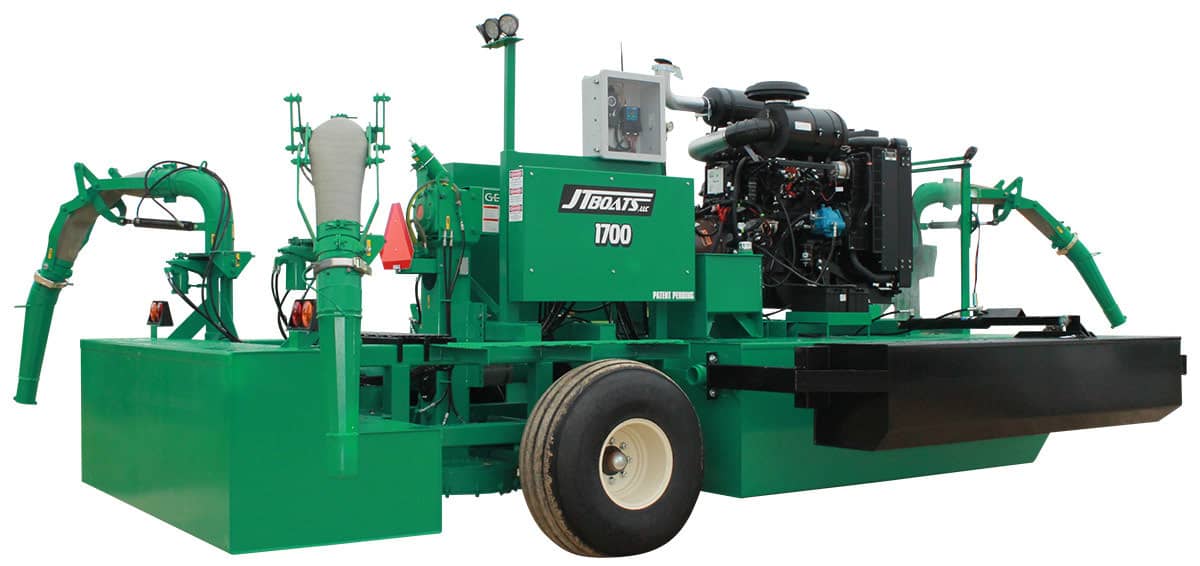 Length
21 ft.
Width
Wings up: 8.5 ft. Wings down: 15 ft.
Weight
12,500 lbs.
Engine
John Deere 6.8 Ltr. 275 hp.
Fuel capacity: 115 gallons
Centrifugal Pump
GEA 8″ super pump
No priming necessary
Remote Control Functions

Engine start/stop
Engine throttle increase/decrease
Nozzles controlling/steering/propelling
Lights on/off
Hitch raise/lower
Rear Wheels raise/lower
Wings raise/lower
Agitation/ Nozzles

3 Rotating nozzles allow for forward/backward, side-to-side, or circular motion at any time.
Above ground nozzles allow user to spray down banks in lagoons.
Gate valve to shut front nozzles off when coming to shore.
Hydraulic Hitch
Safely hook/unhook from tractor when backing up or retrieving boat from manure lagoon.
Breaking ice in icy conditions.
Hydraulic Wheels
Hydraulic wheels may  go down to assist in getting in and out of manure lagoon.
"Depth finder"  Hydraulic wheels may be used to find banked solids in manure lagoons.
Hydraulic wheels may go down five feet to assist getting around manure lagoons
Hydraulic wheels may be used as an "anchor" in the manure lagoon for washing down banks or docking boat for nighttime hour.